To thrive in today's market, a brand needs to offer timely, compelling solutions–and then communicate them in the right way, using not just words but a strong and consistent visual language. At RedShelf, our visual language is written largely by one very talented person—now a winner of two 2021 American Graphic Design Awards from the prestigious Graphic Design USA (GDUSA)—our Graphic Designer, Andrea Solomon. From the creation of in-store materials to help our partners drive digital on-campus, to the daily support she provides RedShelf teams, it is Andrea's creativity, consistency, and patience for input, that have made these awards possible. Here's a look at these two exciting wins:
RedShelf Connections: 2021 Winner, Best Integrated Marketing Campaign
RedShelf introduced this campaign at the beginning of the COVID-19 outbreak as a way to help our partners remain connected to critical expertise and guidance despite increased physical distance. The TV-style webinar series included four format flavors (Infosandwich, Morning Focus, Top 5 at 5, and Wine & Shine) each with a slightly different feel, delivery style, and purpose. The modern, whimsical design system that Andrea developed truly brought the Connections concept to life. Watch or learn more about the award-winning RedShelf Connections here.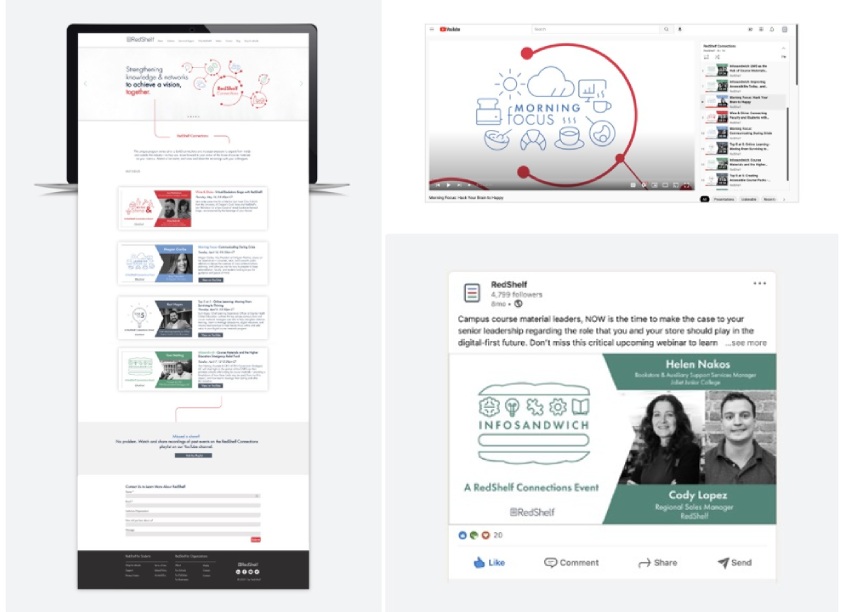 RedShelf Digital Champions: 2021 Winner, Best Logos & Symbols
Higher education is in the midst of a digital evolution that has touched every facet of the traditional learning lifecycle… systems, processes, procedures, and of course reading and learning materials. RedShelf's Digital Champions program was introduced to celebrate RedShelf partners who have been leaders and advocates for digital course materials as a way to improve affordability and equity while enhancing the learning experience. RedShelf Digital Champions received pennants, digital seals, and certificates featuring the Digital Champion logo that received this graphic design recognition.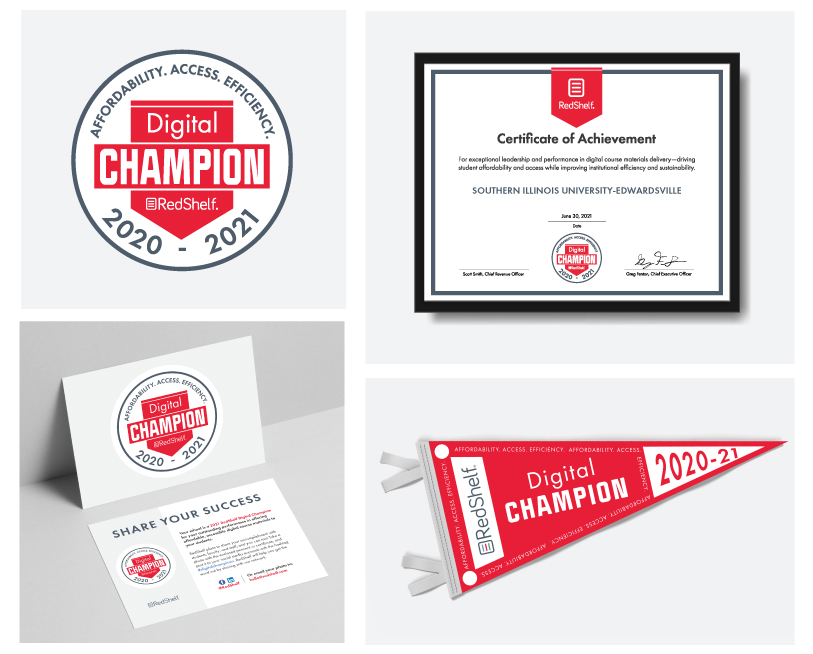 Andrea, thanks for all you do. Employees like you make RedShelf what it is today.